Bishop's Table Hotel
The Bishop's Table Hotel is an independent hotel based in the centre of Farnham, Surrey. They had been through an extensive period of refurbishment updating the hotel, grounds and outbuildings and were ready to relaunch.
Caboodle Design were approached to work with the Bishop's Table Hotel to develop a new website that reflected their newly refurbished look.
Website Design
Bespoke CMS
Responsive Website
Enewsletter
Photography
Website Design & Development
Old website
Their old website (shown below) was extremely dated. The content of the site was in a small letterbox format which made it very difficult for the website visitor to read. The site used very small images which didn't really entice visitors to delve deeper in to the site and the navigation was also situated in different locations on different pages confusing the visitor.
New website
A completely new website was developed, integrating their new brand with some striking photographs that were taken of the hotel building and interiors. The new website is far more modern, uses a more enticing colour palette and encourages the website visitor to delve deeper by showing visually the sort of experience you would have if staying at the hotel.
Strong hero images were used at the top of each page giving a dramatic feel to the website, a 3rd party booking system was also integrated so that people could book online.
We also worked on enewsletter designs ensuring that the newly developed look and feel was communicated across all aspects of their communications.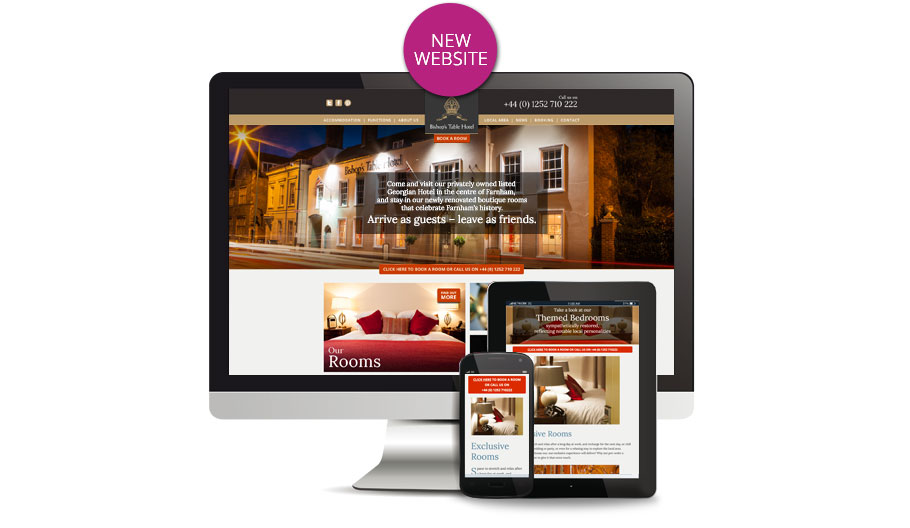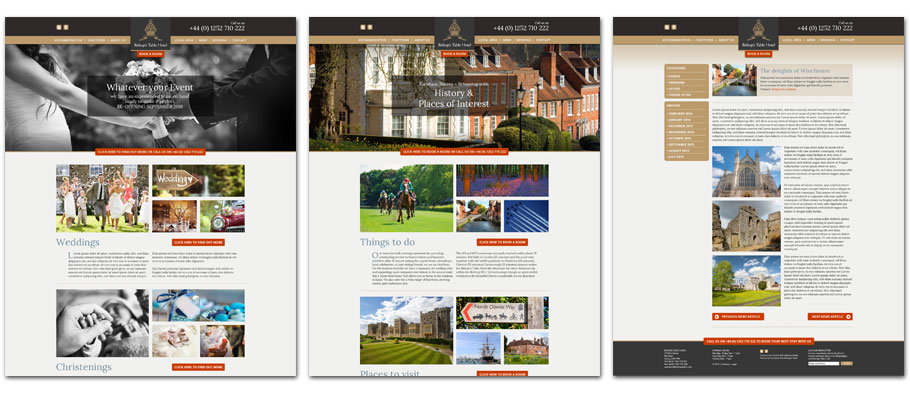 Photography & Art Direction
We worked with the Bishop's Table Hotel to create a photographic style that could be used across all aspects of their marketing material and one that really demonstrated their newly refurbished hotel and grounds.
There were a number of exterior and interior images created highlighting the beautiful building and its unique qualities. The exterior images were shot in a more dramatic style where the interior images were made to look more enticing and luxurious to give an impression of what you could expect on your stay.
If you would like to find out how we can help you grow your business call us on
01420 561134