AMS Systems Engineering
AMS Systems Engineering is a UK based engineering company who specialise in the design and manufacture of aircraft recovery equipment.
Established over 25 years ago, AMS are one of the market leaders in their field. They not only produce the equipment but are also specialist trainers on its use and work with some of the biggest airlines, airports and military teams in the world.
This family business was looking to take a step to the next level, to evolve their branding and to been seen as a global provider.
Branding
Brand Guidelines
Brochures
Invitations
Folders
Product Sheets
Signage
Event Graphics
Exhibition Graphics
Promotional Items
Website Design
Bespoke CMS
Responsive Website
Art Direction
Photography
Branding & Corporate Identity
We worked with AMS to refresh and develop their brand taking it from being seen as a family business to one with prominence, strong visual style and global appeal.
We redrew their logo and developed their brand, touching everything from their colour palette, typography, visual style, supporting graphics through to photographic and video styling.
We then developed a set of brand guidelines so they had all the tools at their disposal to keep their brand looking fresh, its visual style on track and one that really reflects their brand values and proposition.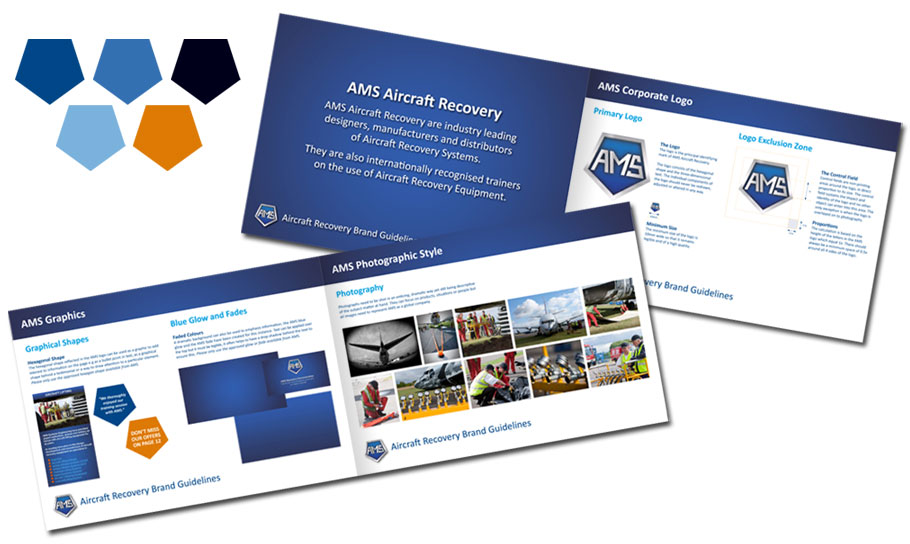 Graphic Design
A range of marketing materials were developed to help promote AMS to their customers which included a brochure demonstrating their products and services and highlighting their industry firsts.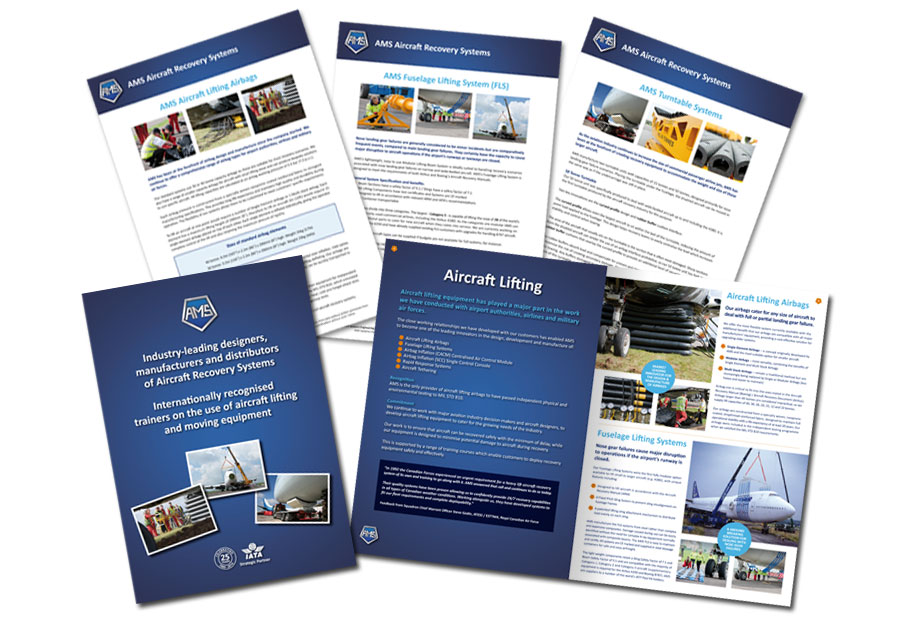 They were also hosting the 2014 Aircraft Recovery Task Force conference for IATA members and held a special one day event to demonstrate their products. They needed a collection of promotional materials for this day, including an invitation that was designed as a personalised boarding pass, folders holding specific product information sheets, promotional merchandise, an exhibition stand and signage to direct the attendees.
The demonstration day itself was a great success and the international audience were treated to two product demonstrations at AMS's training facility where they were able to witness an aircraft rescue.
Website Design & Development
Old website
The AMS website was in need of updating, it was quite passive and needed to be more engaging, used outdated technology so had its limitations and from a visual and content point of view lacked impact.
New website
The new design utilised the AMS branding work that had been developed and was far more striking and engaging in appearance. Strong, confident descriptive hero images were used to add impact and to describe visually the content of the page. These images helped to set the scene of the website and enticed the website visitors to delve deeper in to the site.
We also added in clear unique selling points (USPs) to the product pages so people could see at a glance why the AMS products were better and more suitable that their competitors. We also added in a section to highlight the industry firsts that AMS are known for to help elevate their brand and its credibility.
A bespoke content management system was developed so the company could manage all of the content themselves, including their integrated videos, images and text. The website was also responsive – one website that responds to the individual device you are viewing it on whether desktop, tablet or mobile.
The new AMS website helped to elevate the company and its brand further, enabled them to talk to a far wider and broader international audience and made them look like the global company they had become.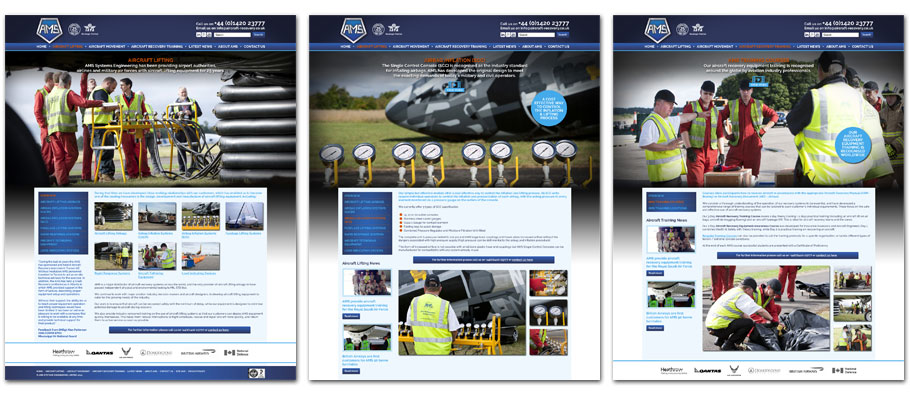 Photography & Art Direction
We worked with AMS to create a photographic house style that reflected their brand values and could be used across all aspects of their marketing.
We created a number of scene setting images that encompassed their product range and demonstrated the environment that their equipment would be used in.
We also developed descriptive product based images to show how the aircraft would be rescued and how the products would play a part in that, along with more modern, arty images showcasing each product in a more enticing way.
AMS now have a full image library to show their customers that really demonstrates their unique business offering.
"AMS engaged the services of Caboodle Design, to produce us a new web site with a global image. Throughout the construction of the new site, Caboodle gave us new ideas in a positive direction. We are very pleased with the final website and are pleased to see an increase in visitor numbers. We continue to work with Caboodle on additional marketing projects, highlighting our different products to our industry."
If you would like to find out how we can help you grow your business call us on
01420 561134