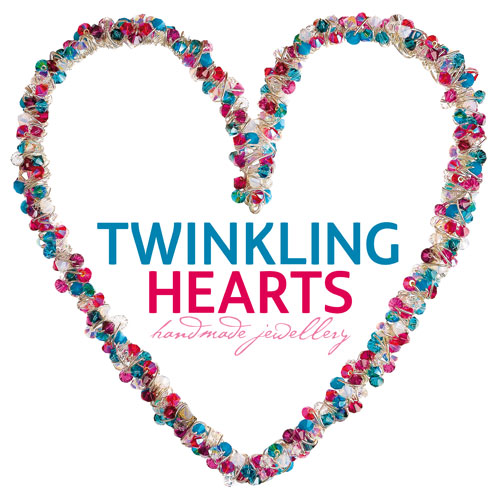 Twinkling Hearts Jewellery
Twinkling Hearts Jewellery are bespoke jewellery designers who sell an exquisite range of hand crafted jewellery using high quality crystals and crystal pearls.
Caboodle Design were approached to create a brand for them and to develop that brand across a range of marketing materials which included adverts, leaflets, roller banners and their ecommerce website.
Corporate Identity
Branding
Business Stationery
Adverts
Leaflets & Flyers
Exhibition Graphics
Website Design
Bespoke CMS
Ecommerce Website
Art Direction
Photography
Branding & Corporate Identity
We worked with Twinkling Hearts to develop a unique hand crafted brand that really reflected their company and its products. We used a beautiful photograph of one of their bespoke designed jewellery elements and combined that with both a modern and hand scripted font and a fresh bright colour palette to bring the logo together.
The new logo is fresh and modern, it stands out in an overcrowded marketplace, has personality and really reflects the premium product that the company creates. We also developed the brand across a range of business stationery, ensuring that the brand values and styling were carried throughout.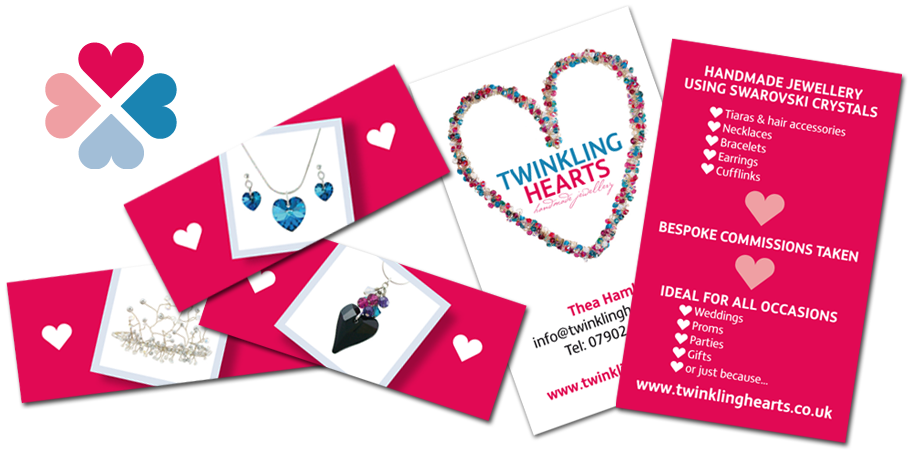 Graphic Design
A range of marketing materials were developed to promote Twinkling Hearts Jewellery to their customers which included a range of adverts, leaflets and flyers showcasing their unique and ever growing range of products.
We also worked on their exhibition and event graphics so they were perfectly marketed at the different events they attended. Elements included roller banners, shelf strips and wobblers, table cloths, packaging and even their car livery.
Photography & Art Direction
We worked with Twinkling Hearts to create a crisp, clean photographic style that really emphasised their stunning range of products and could be used across all of their marketing materials.
We developed a selection of hero images that encompassed their product range and had a modern, lifestyle look. We also developed a crisp white style for their product photography so the customer could see the quality, colours and design in its best light encouraging their purchase.
"We were lucky enough to find the team at Caboodle when our business was in its fledgling stages, with little more marketing material than a homemade business card. Even before we had formally started working with Caboodle, they had already made some suggestions about how we could improve our branding and presence.
We were particularly impressed with Caboodle's ability to interpret and understand our vision, and create designs to support that. They shared our passion for growing our business.
We started working together on a logo, then came business cards, design work for exhibition banners, the design and development of an ecommerce website, printed flyers and branded packaging. In fact, we have experienced a wide range of Caboodle's offering, and have always been impressed by how swiftly the team has responded to our requests, and the professional and friendly service that we have received.
We cannot imagine going to anyone else for design work – thank you Caboodle!"
If you would like to find out how we can help you grow your business call us on
01420 561134