Easy As HGV
Easy As HGV are a nationwide HGV training and recruitment company who offer a wide range of HGV licence training and also a job finder service on completion of your training.
Caboodle Design has worked with Easy As HGV over a number of years developing their brand and implementing that brand style across a range of business stationery, adverts, printed communications and of course their website.
Branding
Business Stationery
Brochures
Adverts
Leaflets & Flyers
Print Management
Website Design
Bespoke CMS
Responsive Website
Conversion Rates
Branding & Corporate Identity
We have worked with Easy As HGV over a number of years building and evolving their brand to reflect the company it is today. We have developed their visual style, colour palette and overall look to mirror its brand values and ethos. We have taken this branding across their full range of business stationery – business cards, letterheads, envelopes creating a dominant, successful brand.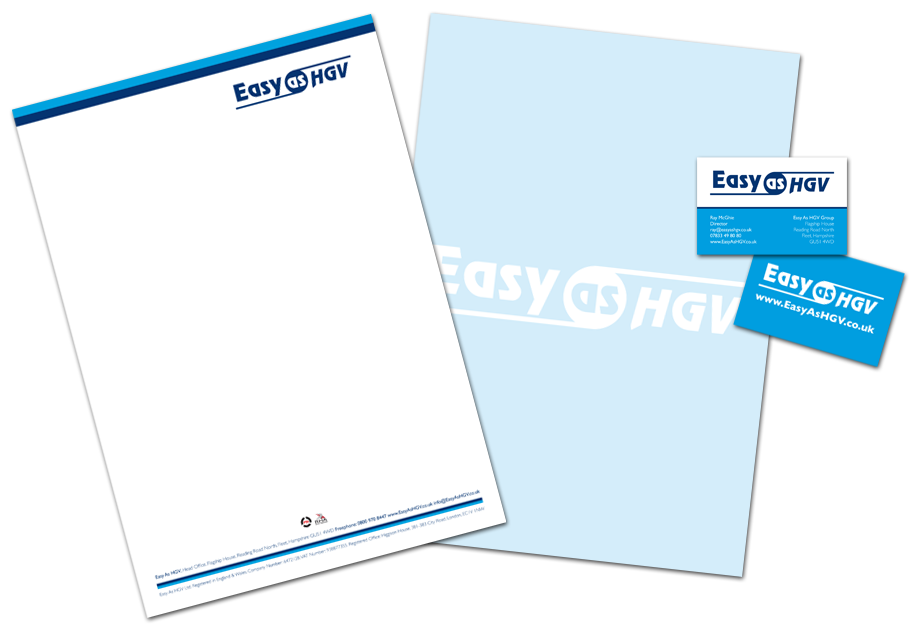 Graphic Design
A range of marketing materials have been developed to support the Easy As HGV brand including a corporate brochure with information on their licence training, job finder service and of course their company ethos.
It was important for their customers to see just how simple and easy the licence training process is so this was a clear consideration in our design concepts along with highlighting the company's unique selling points (USPs) and demonstrating how they differ from their competitors.
We have also worked on a number of adverts and flyers positioning Easy As HGV as the market leader and encouraging a faster conversion rate elevating them above their competition.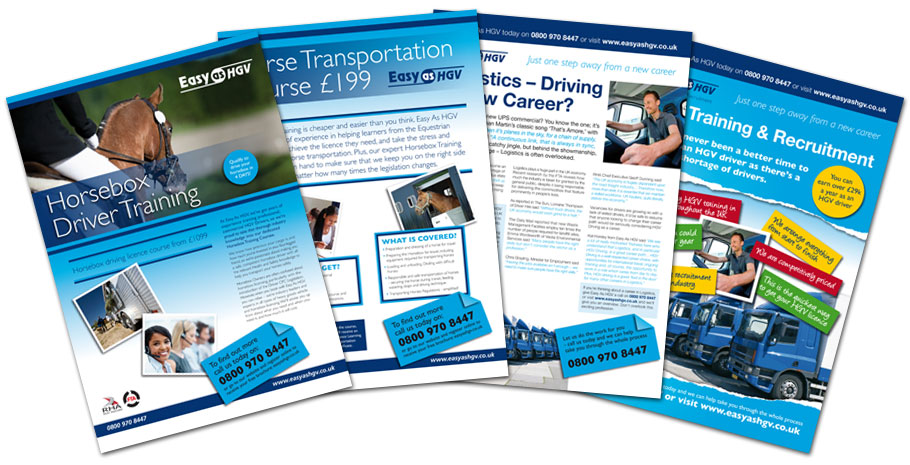 Website Design & Development
The Easy As HGV website needed to attract the right type of customers and then to encourage them to delve deeper in to the website to discover the range of licence types they offer training in.
The brand was carried across to the design of the website and utilises the fresh colour palette of two blues, grey and an accent colour of bright orange which has been used for extra emphasis and shout out.
Their site is intuitive to use, has clear calls to action throughout so website visitors know exactly what they need to do next. The home page is a great example of this, there are two clear routes – one to licence training and the other to the job finder service.
Unique selling points (USPs) are prominently displayed on all key selling pages of the site to overcome any objections and customers can see at a glance why they should use Easy As HGV. There are also in depth pages for every licence type explaining the differences between each licence to help customers make an informed choice.
A bespoke content management system (CMS) was developed so the company could edit all of the text, images and videos, along with managing their jobs section. The website was also responsive – one website that responds to the individual device you are viewing it on whether desktop, tablet or mobile.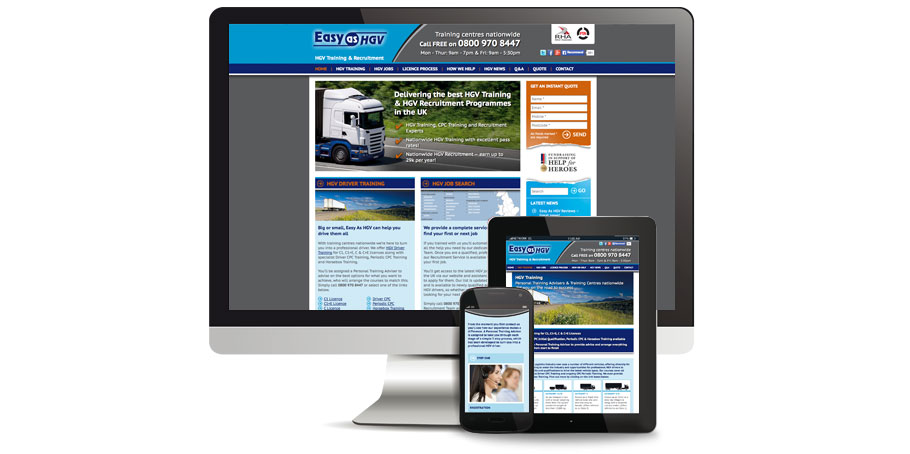 If you would like to find out how we can help you grow your business call us on
01420 561134