The Silk Route
The Silk Route are a well established business and sell an unique collection of luxurious silk fabrics, threads and ribbons.
They have been trading for well over 20 years – a long time in today's small business world and certainly something worth celebrating. Caboodle Design were approached to help them commemorate this event, they also decided that it was time to refresh their brand and marketing materials and commissioned us to undertake the task.
Corporate Identity
Branding
Business Stationery
Adverts
Banners & Signage
Website Design
Bespoke CMS
Ecommerce Website
Art Direction
Photography
Branding & Corporate Identity
As the Silk Route were an established business and had an existing brand, it was important to retain some form of continuity between the old and the new.
The old logo was created more than 20 years ago so was definitely in need of a redesign. The curve shape made out of text, indicated the direction the silk route or silk road took, starting in China and finishing in Venice, the client wanted to retain this shape to keep some continuity between the old and new logo.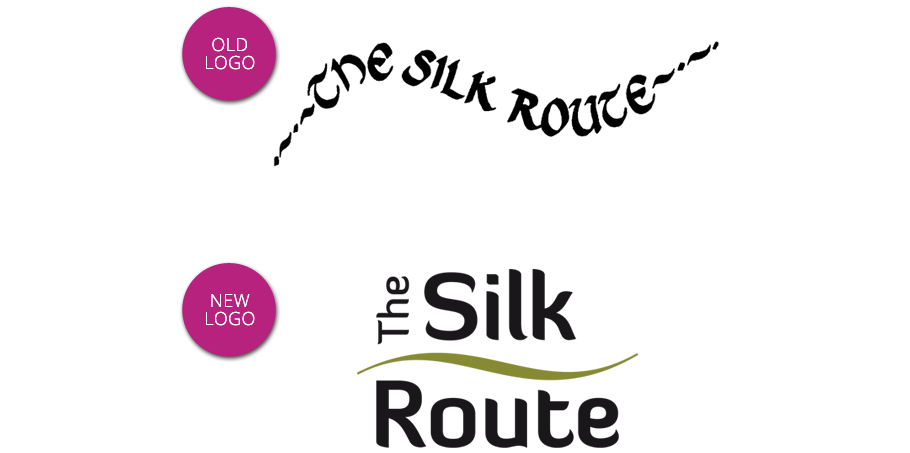 The new logo retained the curve but it was used as a graphical shape rather than being made up of text. This graphic was set between stylised, modern looking type holding the logo together. It is now a much fresher, more contemporary identity, fitting in far better with the company's values and today's lifestyle.
This logo was then applied to their stationery where images of their beautiful silk products were used, accenting the back of business cards, top of letterheads and compliment slips, emphasising the huge range of gorgeous silks they sell and helping their unique, striking brand to evolve and grow.
The rebranding was also applied to banners and signage for shows, all printed materials, packaging and promotional items.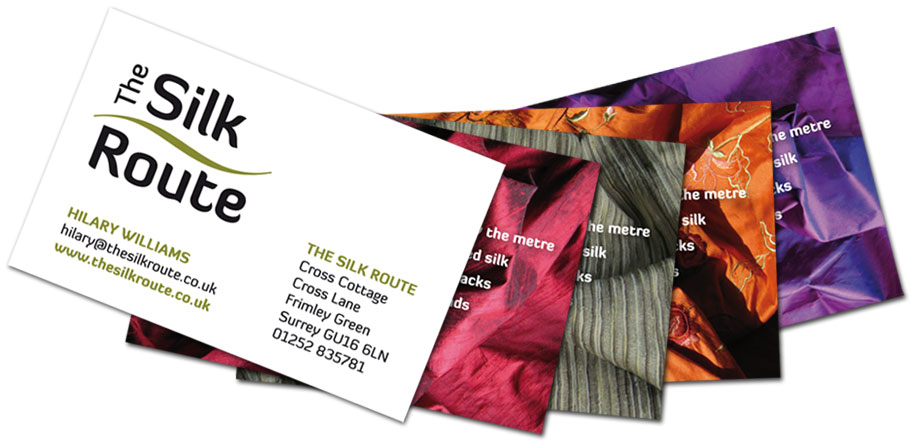 Website Design & Development
The Silk Route website also needed to be updated to showcase their delicious range of silk products and to enable customers to buy online.
The brand styling developed was applied across the website design with each section having a stunning photograph reflecting the type of silk that the user is currently viewing, giving a strong visual impact to the site and demonstrating their vast range of products.
A bespoke management system and ecommerce solution was developed so the company could manage all of its content, products, sales and promotions at the touch of a button, along with their stock control, shipping and delivery details.
The site also has a section on 'silk inspiration' where viewers can see a gallery showcasing well known textile artists using silk in their projects, along with more information on the history of silk and the process of how it is made.
Their new website has had a bit impact on the way they manage and run their business. More time is now needed to fulfil their orders as the products are displayed in a far better way enabling customers to determine exactly what they want and to order online.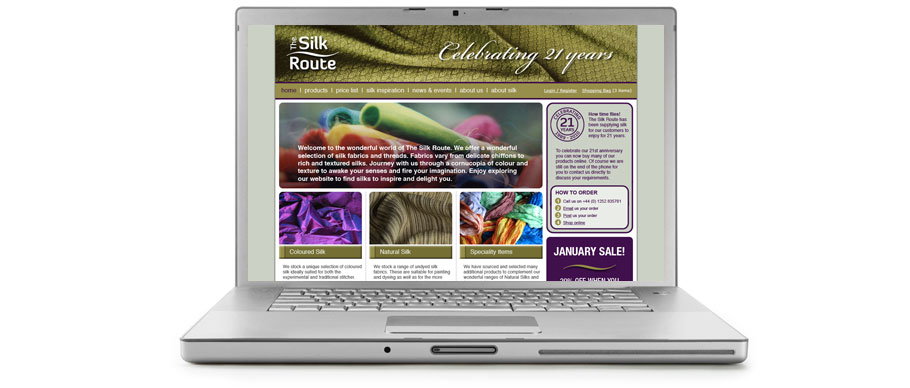 Photography & Art Direction
We worked with The Silk Route to determine a brand style for their product photography that would emphasise their vast range of luxurious silk products and be used across all of their marketing materials.
We developed a style that visually demonstrated the quality, texture and colours inherent within each piece of silk, enabling each and every customer to see the products in their best light.
"After over 20 years in business we decided that our image was becoming somewhat staid and needed refreshing. We turned to Caboodle Design, who came up with a new logo that was new, exciting and exactly met the image that we wished to portray. They not only supplied a new look but also extended it to our stationery, publicity, advertising and packaging.
Caboodle Design designed our existing website, with which we were very pleased, and the resulting 'look' helped us to increase our mail order significantly. So when we decided to upgrade to an on-line shopping site we returned to them. Positive comments from our browsers such as 'easy to use', 'well designed layout', 'Wow – great website', etc. made this an easy decision.
The Caboodle Design team listened to our requirements. They took note of our individual requests and tailored the results to our specific needs. Subsequent help was always positive and timely.
The whole process was made easy and understandable with consultation at every level. This resulted in the delivery of a website that is even better than we anticipated."
If you would like to find out how we can help you grow your business call us on
01420 561134