Bon Voyage
Caboodle Design was the first port of call when an exciting new cruise holiday specialist entered the market.
Cruising is a very crowded industry so a clear, direct, simple look was needed to reflect the company values of cruising being an easy and effortless holiday to choose and book through Bon Voyage.
Corporate Identity
Branding
Business Stationery
Website Design
Ecommerce Website
Enewsletter
Social Media Graphics
Branding & Corporate Identity
We developed a striking ship illustration which harked back to the golden age of cruising. Combing this with bold typography and a contemporary colour palette resulted in a strong, distinctive brand – one which stands head and shoulders above its competitors.
We have since implemented this across all aspects of the company's marketing materials ensuring that the brand values are communicated throughout.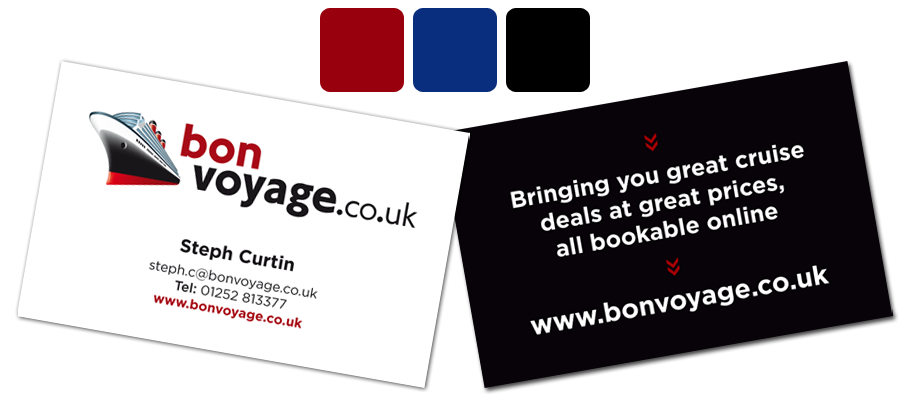 Website Design & Development
The Bon Voyage website was specifically designed and developed so users had as much control over choosing and booking their holiday online as they would if they were sitting in a travel agents.
We created clear directions throughout the site particularly on the home page to help customers effortlessly navigate their way to the information they required. Cruisers tend to either, be loyalty to a specific cruise line or, select their cruise on price so we gave them three distinct ways to start their holiday search. They could select cruises by destination, travel dates or cruise line and also filter their search by adding criteria such as departure point and number of nights away.
An enhanced level of control was also incorporated allowing users the facility to completely customise their holiday, they could choose their excursions, dining options, and even specific cabins. The total cost is prominently displayed throughout so that customers can see at an initial glance what they have chosen and how much the elements cost.
This was the first time this level of interactive control had been seen for online cruise booking and brings whole process right up to date. We were also delighted when this innovative website secured a Daily Mail 'Website of the Week' award.
If you would like to find out how we can help you grow your business call us on
01420 561134